If you have decided to visit Šibenik, you will soon realize that you have made a great decision. This charming Mediterranean city offers absolutely everything you need for a perfect vacation - great food, beautiful beaches, rich cultural heritage, a handful of fascinating monuments, but also activities that will make your vacation special.

With a little good planning, you can easily make sure that the time spent in Šibenik is simply unforgettable. Still, some things you just shouldn't skip so here's a short list of everything you need to see while you're in town.
Saint Jacobs cathedral
The most important monument in the city and probably its main symbol, the Cathedral of St. Jakov is a masterpiece of 15th and 16th century architecture in Croatia that has been built for more than 100 years.
Due to its importance, this three-nave basilica is also included in the UNESCO World Heritage List, and was built entirely of stone.
The most prominent part of the building is its impressive dome, while the interior of the cathedral is richly decorated, and the baptistery and portal stand out. In any case, this is a must stop for every visitor who comes to Šibenik.
Aquapark Dalmatia (Solaris)
An attraction visited by all who want good fun is Aquapark Dalmatia in the resort Solaris.
This is the first theme water park in this part of Croatia, and it consists of many slides, jets and all the other elements that a great water park must have. Children and adults will enjoy it here, and the park also offers various refreshments and a snack bar where you can always find something to satisfy your hunger.
The safety of all visitors is taken care of by professional lifeguards, and there are also sun loungers and parasols for complete relaxation. Fun for the whole family!
Bungee jumping Maslenica
For all of you eager for adrenaline, bungee jumping from the Maslenica Bridge is exactly what you were looking for. Diving from as high as 56 meters is not for the cowardly, but it is certainly something that will remain etched in your memory for a lifetime.
Not only that, but this is also the highest height for bungee jumping in the whole of Croatia!
Immortalize the whole experience with a jump shot that will be a unique souvenir from your travels and a proof to everyone that you are ready for the greatest feats.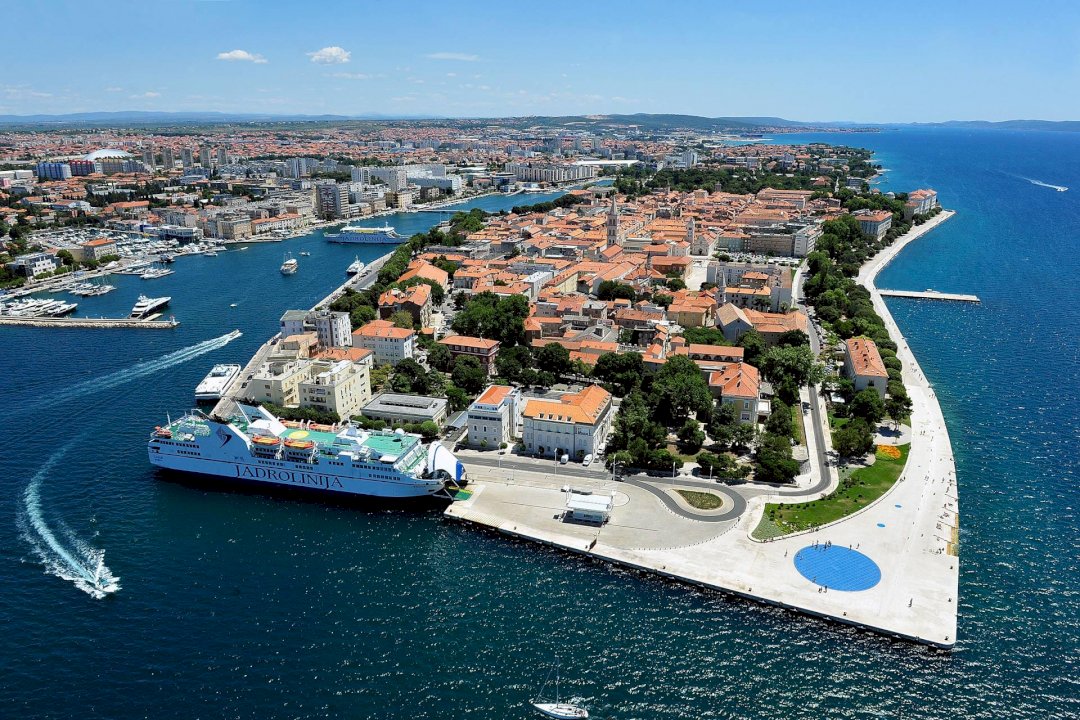 Falconry center
For animal lovers, going to the falconry center Dubrava not far from Šibenik will be a perfect trip.
This place is completely dedicated to these magnificent birds and the ancient skill of falconry, and visitors can learn a lot because the ticket price (50 kuna for individual visits) includes an educational part that lasts about 45 minutes.
In addition to all this, people here are working on many other projects aimed at better understanding and protecting all birds. Great choice for a trip if you have the time.
Aquarium Terrarium Šibenik
Another great place to have fun and learn a lot at the same time. Aquarium Terrarium Šibenik is located in the city center and keeps a handful of fascinating creatures, not only from the Adriatic but also much wider.
The professional and friendly staff takes good care of all the animals, and they have given them fantastic names. So you can meet Rocco and Cicibella, Bepina and Luigi, the turtles Donatella, Leonardo, Michelangelo and Raphael and many other colorful residents.
Still, what not to miss is a visit to Cayman Pablo, an animal from the alligator family!
Ethnoland Dalmatia
Etnoland Dalmati is located in a place called Pakovo Selo, which is located less than 20 km northeast of Sibenik.
It is a family project that will introduce visitors to the history of Dalmatia and offer traditional delicacies such as Drniš prosciutto, pasticada or meat under the baking lid. The picturesque landscape will quickly conquer you, and the friendly hosts will allow you to fully enjoy the charms of this part of Dalmatia.
Traditional costumes and interesting stories in which visitors participate only complete the fantastic experience. Therefore, if you want to get away from the hustle and bustle of the city to a quieter place, Ethnoland Dalmatia and Pakovo Selo are exactly what you are looking for.
Šibenik fortresses
When we talk about the things you have to see in Šibenik (and around it) it is impossible to bypass the four beautiful Šibenik fortresses that are arranged in different places in the city.
Among them, the Fortress of St. Nikola, which is the second Sibenik monument on the UNESCO World Heritage List. Its fascinating position on the islet in front of the city as well as the fantastic condition in which it has been preserved will certainly not leave you indifferent.
Šubićevac Fortress is an extremely interesting combination of tradition and technology of the future, while the Fortress of St. Mihovila is an ideal stage for summer performances and concerts.
Finally, the Fortress of St. Ivana played a role in the mega-popular series Game of Thrones, which is a fact that fans will surely be very interested in.
All in all, wherever you go you will have a lot to see.