Looking for some cheap houses for sale? The region of Dalmatia offers plenty of opportunities in that respect because its numerous islands and quaint seaside towns always have some piece of real estate, often an old stone house, that's available at a great price.
Owning such real estate in the region as popular among tourists as Dalmatia brings many possibilities to the owner.
First and foremost, your summers will be full of sun and sea, especially if you can find a house in one of the tourist centers.
An additional advantage is that if you buy a house on the seafront, you will be able to enjoy the very best Dalmatia has to offer and spend many a magical evening with a light sea breeze cooling you.
However, this type of property allows you a relatively quick return on your investment because it is also possible to adapt it to serve as an apartment that you can then rent out.
Apartments like that in Dalmatia are in exceptionally high demand during the tourist season, with prices reaching some very high levels, so one good season can cover a large part of, if not your whole investment.
Still, when it comes to houses for sale in Dalmatia by the sea, it's worth pointing out a few details that can affect the plans you have with your new property.


How to buy a cheap house in Dalmatia and what to look out for?
If you're willing to invest some effort and patience on top of your funds, it is possible to find some really cheap houses in Dalmatia.
And the cheapest houses by the sea are those in need of renovation.
Although this means that the house will not be ready for moving in as soon as you buy it, houses like these allow you to tailor the interior exactly the way you want, plus the total cost will be lower than if you were to buy a house in tip-top condition.
If you're planning to rent out apartments in Dalmatia, the best decision for something like this is to buy a cheap house as soon as the tourist season ends. That way, the renovation can be finished by the start of the next season and you can start getting some return on your investment.
But what do you have to be mindful of when investing like this?
Above all, you need to check the papers belonging to the house you're buying. Probably the most important document you as the buyer need is the land registry certificate which confirms who the owner of the real estate in question is.
Besides, it is possible that the object you're interested in is not listed as a house at all in the land registry, which means its status will need to be changed.
You also need to make sure the object has an operational license.
In situations like these, real estate agents can play a huge role. In most cases, they have a lot of experience when it comes to property negotiations and know exactly what to be mindful of when examining objects like these. So, if you don't have a lot of experience in purchasing real estate, having an agent by your side makes things so much easier.
Our agents are expertly trained professionals who will cover all the paperwork details concerning the real estate you've chosen instead of you. Not only that, but they will also be glad to help you with valuable advice and point out things you may have overlooked.
The amount of time and patience you save like this cannot be overstated.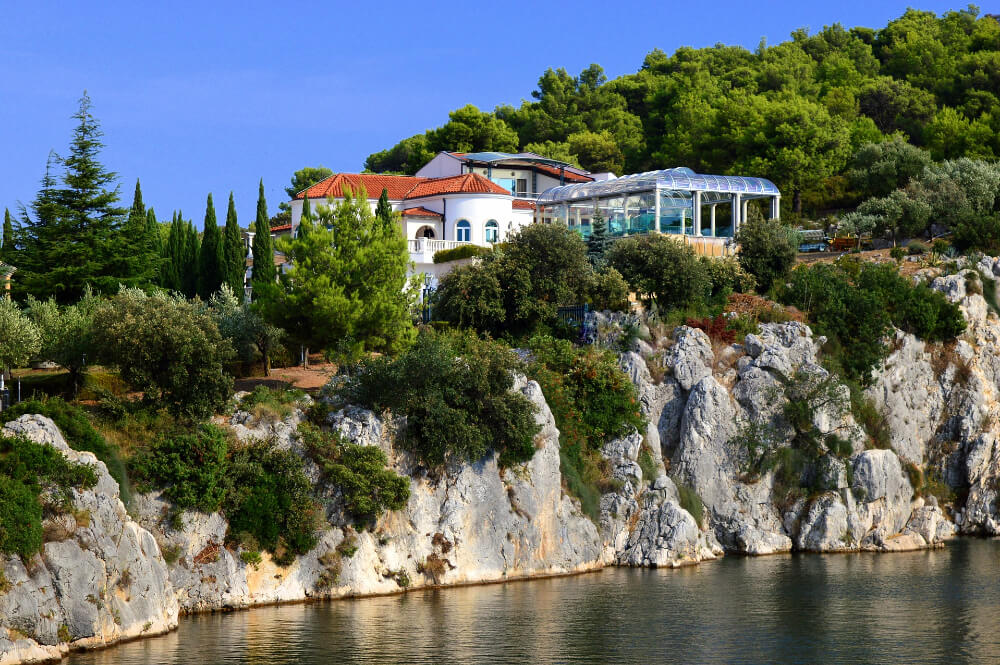 Check out our choice of the cheapest houses for sale!
Now that we've gone through all the basics you need to know when it comes to buying houses for sale in Dalmatia, we can take a look at a few examples, too. Here are some of the cheapest houses available on the market in that region!
Tisno – a residential-business stone house 40 m from the sea
Tisno is a municipality close to Vodice and Šibenik which is separated from the wonderful island of Murter with a narrow channel across which leads a bridge.
Considering that this part of Croatia is popular among tourists, the fact that this house is in the town center and that it has business space on the ground floor can be extremely important.
Then there's the vicinity of the sea, which also improves the house's value, especially because it has a big terrace with a beautiful view.
Although the house needs to be renovated, good use of its potential will help you get a quick return on your investment.
Jadrija, a small house with a yard
Šibenik is a city that has been developing rapidly over the last few years, especially when it comes to tourism, which is why this house is an ideal opportunity for all who want to become a part of the local tourism industry.
Jadrija is a neighborhood with a secluded beach very close to the house in question. The property itself has two apartment units, one of which (the upper one) was recently renovated, while the other requires further investments.
Regardless, this is a great opportunity for future industrious owners to secure a wonderful house at a bargain price or to make an investment in creating a perfect place for their future guests.
A small house on Murter
The island of Murter is a very popular tourist destination, primarily among yachtsmen, due to its location. However, that does not mean that you will find unbearable crowds here.
Quite the contrary, Murter has plenty of quiet and secluded locations for a relaxing vacation, and this little house will take you to the quiet part of Murter Town. From there, it's only a short walk to the sea.
Considering that this place is quite lively all year round, this house will allow you to take a break in a wonderful setting whenever you want.


A lovely little house on the seafront
As mentioned earlier, Sibenik is becoming more and more popular as a destination, which is why the properties in that city are so sought after.
This small bungalow is at the perfect location for spending some quality time in the city, away from the hectic center but well connected to it.
On top of that, it's right on the seafront, which gives it additional allure.


A house in the old part of Murter
Last but not least, we go back to Murter one more time.
This time a house located in the town's old part is waiting for us, and it has a lovely terrace on the first floor, ideal for enjoying warm summer evenings.
Although this part of town is quite quiet, you can get to the town center quickly and easily, and the sea is not far either, so you can go for a swim whenever you want.